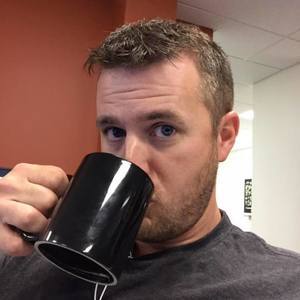 Gene Gosewehr
Special guest
Gene is a husband, father, preacher of the Gospel, and grower of magnificent facial hair. Formerly the creator and administrator of LetThereBeMovies.com, Gene and many of his writers joined forces with Reel World Theology in January 2016 to expand both audiences and champion the message that entertainment is not mindless. He hopes to shed light on the numerous ways in which a secular industry like Hollywood still manages to tell stories revealing a heart searching for truths of life that can ultimately only be satisfied in God.
Gene finally obeyed the call of the Gospel after two years at Purdue University where he got his degree in Land Surveying and Geomatics Engineering. He now sets up shop in Lebanon, IN with his wife and three children. In the spring and summer months you'll find him coaching no less than two baseball/softball teams and managing a Jr. High baseball league. He also writes and podcasts at AClearLens.org, a site dedicated to teaching the Christian worldview through apologetics.
Gene Gosewehr has been a guest on 3 episodes.
June 1st, 2018 | 1 hr 56 secs

anne ramsey, chris columbus, corey feldman, dave grusin, fratellis, hey you guys, jeff cohen, joe pantoliano, john matuszak, jonathan ke huy quan, josh brolin, kerri green, martha plimpton, richard donner, robert davi, sean astin, sloth love chunk, steven spielberg, the goonies

In Episode 78 of The Cinescope Podcast, Chad and Gene Gosewehr talk about one of their favorite movies, The Goonies!

October 20th, 2017 | 1 hr 25 mins

adrian hall, anna quayle, benny hill, child catcher, childcatcher, chitty chitty bang bang, dick van dyke, gert fröbe, heather ripley, ian fleming, ken hughes, lionel jeffries, richard sherman, roald dahl, robert helpmann, robert sherman, sally ann howes, sherman bros, sherman brothers, truly scrumptious

In Episode 63 of The Cinescope Podcast, Chad and Gene talk about one of their favorite movies, Chitty Chitty Bang Bang!

January 26th, 2017 | 57 mins 58 secs

blake clark, buzz lightyear, disney, don rickles, emily hahn, estelle harris, joan cusack, jodi benson, john lasseter, john morris, john ratzenberger, lee unkrich, michael arndt, michael keaton, ned beatty, pixar, randy newman, reel world theology, tim allen, tom hanks, toy story, toy story 3, wallace shawn, woody, you've got a friend in me

In Episode 26 of The Cinescope Podcast, Chad and Gene talk about one of their favorite movies, Toy Story 3!